FairWild Week Webinar: 'Wild Plants are Our Business'
21st June 2021 3:00pm
Event Details
Start Date: 21st June 2021 3:00pm
Venue: Online
Event Description
Join the webinar co-organized by TRAFFIC, the FairWild Foundation, and the American Botanical Council's Sustainable Herbs Program to kick off FairWild Week 2021 with a practical discussion on why wild plants are everyone's business. From shea butter to liquorice, we'll discuss specific examples of responsible sourcing challenges and opportunities, emphasizing how important wild plants are to our everyday lives and why responsible sourcing needs to occur.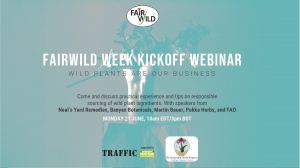 Erin Smith, MSc, CCH, Director of Herbal Science & Research at Banyan Botanicals, and Board Member and Co-Chair of the Sustainability Committee for the American Herbal Products Association (AHPA)
Susan Curtis, Director and Brand Ambassador at Neal's Yard Remedies
Andrea Rommeler, Sustainable Wild Collection Manager at Martin Bauer
Pukka Herbs 
The session will provide practical advice to businesses trading in wild plant ingredients, with an opportunity for Q&A with the speakers, as well as increasing consumer awareness of these prolific yet hidden ingredients by sharing stories around the origins of specific ingredients.
Sign-up link: http://abc.herbalgram.org/site/Calendar?id=121663&view=Detail