CCI Masters in Conservation Leadership – Applications open
2nd October 2020
Applications are now open for the Masters in Conservation Leadership 2021-22!
The Cambridge Masters in Conservation Leadership is a ground-breaking course that equips students with the applied leadership and management skills needed to create positive change in conservation.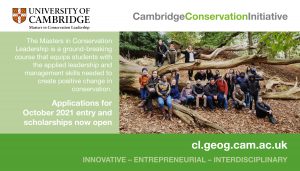 The flyer attached below contains all the key information you will need to apply. The deadline for applications is the 3rd December 2020. Once again we have a range of full and partial scholarships available for outstanding students, so nobody should be put off from applying by their financial circumstances.