Wildflower Wonder!
27th May 2020
It's a great time of year to look for wildflowers. If you can't get out much, or need some hints on identifying what you see on your walks, Cambridge Past, Present and Future are producing some videos to help. Check out the first of Wandlebury's videos here. If you can get to Wandlebury there are lots more species to look out for, as well as a new addition to the Dinky Doors family!
If you live in central Cambridge you may have noticed that the lawn behind King's College looks a little different this year. Although you can't get close up at the moment, you can see the new meadow planting from the Backs, and glimpses from Trinity Lane by the entrance to King's chapel. At the moment the ox-eye daisies are in fill bloom but there are also poppies and cornflowers in the mix. You can find out more about the project here.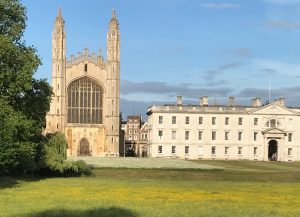 Cambridge Botanic Garden have been producing weekly virtual walks around the garden while it is closed. You can join the walks here.